Marlborough

Who we are and what we do?
Life Education is a charitable trust that delivers a health programme to children in preschool, primary and intermediate schools. We build self-esteem and teach children the marvel of the human body so they can make informed decisions and lead a healthy life. The Marlborough Trust is completely locally funded, and all funds raised stay within our community.
Life Education in the Marlborough region
Since commencing in May 2006, Marlborough's mobile classroom has visited some 99% of the primary and intermediate schools in the Marlborough region, including Rai Valley, the Marlborough Sounds, Kaikoura, and in 2010 we extended into the Hurunui region. In Marlborough, our programme is dependent on the support of a small but vital group of local sponsors whose contributions by way of funding services help us deliver the programme to schools at a highly subsidised rate so that all pupils have the opportunity to attend.
Find out more about our work and how to support us
here.

Keep up-to-date
Our sponsors
Fulton Hogan
Move Freight
WK Advisors and Accountants Limited
More FM
Laser Electrical
Prisma Print
VENT
Fissendens
Motorworld Blenheim
Transport Repairs
Blenheim Storage
Check out Genevieve and Harold in our new vehicle, kindly supported by Motorworld Blenheim

Our people
Educator: Genevieve McDonald
Gen has lived in Marlborough for 30 years, raising her two daughters here.
Originally from Southland, Gen and her family love the rural life and the friends and family they have in Marlborough. Gen and her family love being outdoors and on the water in the Marlborough Sounds or anywhere in our beautiful country. They also love getting away in their bus, which is a favourite pastime.
Gen has been teaching a while now and has enjoyed being in many different schools, but Life Ed is where she feels the most passionate. She believes that Life Ed are giving children the skills and knowledge needed to succeed in life. The messages we share with children are lifelong lessons that will enable them to be amazing citizens in the future.


Our Trustees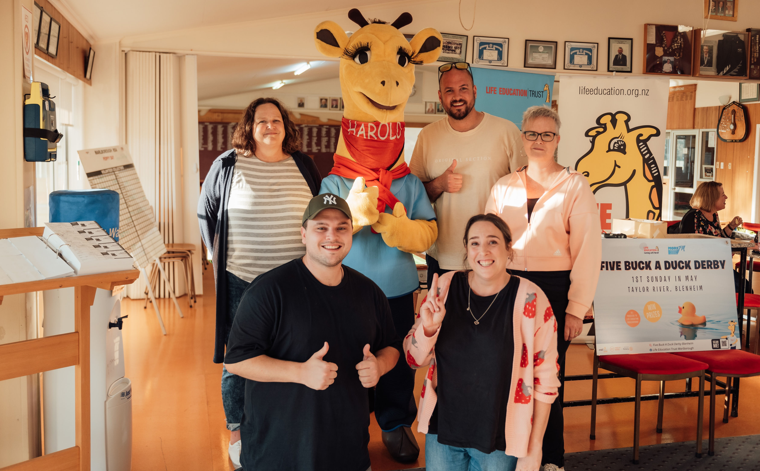 Harold Club
Harold Club is an excellent way individuals can support our community Trust. During the year we run social functions for the Harold Club with guest speakers. These are opportunities to gather with other supporters of the Trust. $200 for an individual membership; $300 for group membership.
Contact details
Chairperson: Francois Cuccurullo, [email protected]
Educator: Graeme Brent, [email protected]
Trust Fundraiser: Tasha Knox, [email protected]
Postal address: Life Education Trust Marlborough, PO Box 5097, Springlands, Blenheim 7241